Here is my new scrap room. Eleanore and Jessica wanted to share a room so I was happy to assist them in that move. I told them that if they shared a room that it was going to be for a very long time because I was going to make the other bedroom into my scrappin room. I have been working on it since Monday and finally got all the shelves and stuff moved from downstairs to it's new home upstairs. Here are the photos that I took tonight after I finished organizing all my stuff. It is hard to believe that I had all this stuff (except for the two long tables and the shelving)in a small area of my bedroom downstairs.
Just in case you did not know what my old scrappin area looked like here are a few photos of the old area, which was located in my bedroom.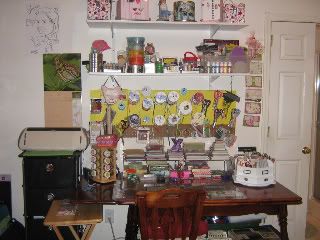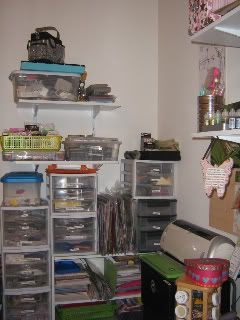 SO OUT WITH THE OLD AND IN WITH THE NEW!!!!!!!!
This is the view from the doorway, looking into the room. And yes that is a dresser. I had to leave Jessica's dresser and clothes in the room because the other room did not have any space for them. That is alright with me because the dresser works great for a TV stand.
As you walk into my room on the left you will find my main scrappin area. This area include my scrappin table and wall of scissors/ribbons. Under this table to the right of the chair is a rolling cart that has kits inside. There is also a bin on the ground that has my thickners inside and they are arranged by color. The shelves above the table are where my flowers and some of my other embellies.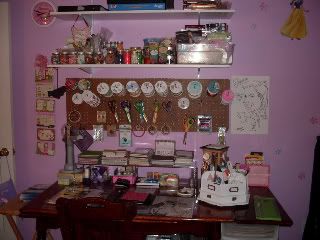 To the right side of my table is the area where my papers are located. To the right of my paper racks is the TV and my stickers are to the right of the TV. The shelves above the paper racks is the chipboard area and my books.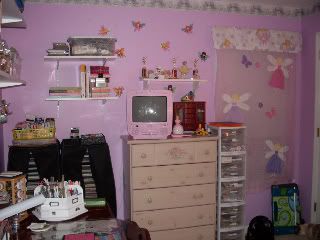 On the next wall you will find my computer area for the laptop and my cricut expression. My cuttlebug and other diecut stuff is also located here. This area is also right behind me as I am sitting at my table. Next, the computer table is a small bookcase that contains paper slabs and other sizes of card stock. On top of the bookcase is one 3-drawer container that houses sticker/rub on letters and words. There is also another 3-drawer container that houses my clear stamps.
This is the area for my stamping stuff. This area is where my glitter, embossing stuff, paints, stickles, rubber stamps, ink pads, copics, markers and color pencils can be found. The two bottom shelves are my rubber stamps. Under this table lives a small kids table and two chairs that can be moved out to allow my kids to scrap, if they wish, while I scrap. You can not really see it in the photo but right next to this table is a black stand that houses my punches, ribbons not on a roll, and papers. On top of this black stand is where my scrap bin lives. To the right of this stand is the door to my room.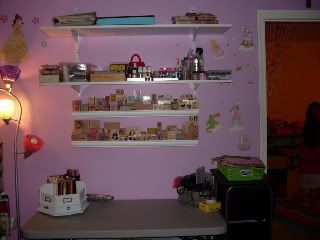 I hope that you enjoyed this tour of my new scrap room. Please leave me comments and/or suggestions. I would also, like to thank George, my husband, for his help of hanging the shelving and for him not complaining about me having all this stuff. I want to also thank my three kids for helping move the stuff up the stairs to it new home. I special thank you to Eleanore, my oldest daughter 10 yrs, for all her hard work. Eleanore helped my move the paper racks and kept going to get move stuff without ever complains. Of course I owe her something special for all that hard work.