Well, since I could not sleep today I headed to my room and worked on some challenges. Here are a few of the things that I finished.
I have been busy so far this summer working on some of the summer camp challenges over at Coordinates Collections. Here are two layouts I did for this weeks challenges. This one was a 2 page sketch challenge.
This layout was for the S'more challenge, Had to have one patterned paper, two pictures and lots of buttons.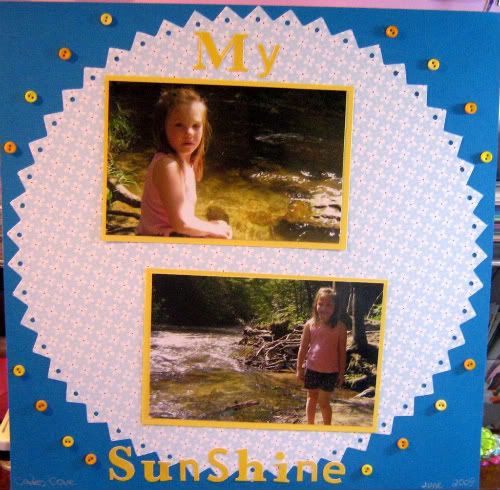 This sweet little layout I did for a BoBunny color yellow challenge. I used almost all Bobunny products for this challenge.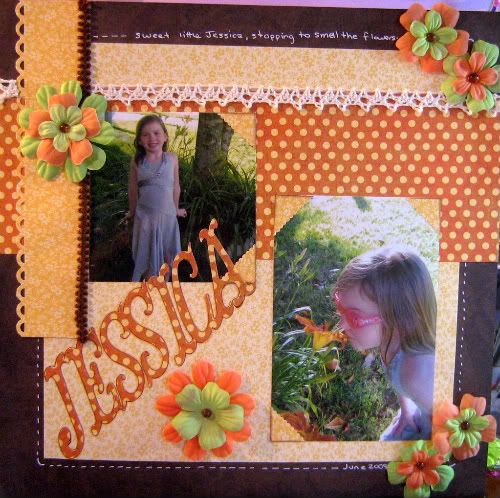 Here is a list of products used:
Brown background paper - BoBunny "Fall festival Cocoa"
Yellow and white flower patterned paper - BoBunny " Back to Back's"
Orange and yellow dots patterned paper - BoBunny "Shabby Princess"
All flowers - Bo Bunny "Grease Monkey"
All ribbon - BoBunny "Bella Journee"
6 brown dew drops
Colorbox "Chestnut Roan" Chalk ink pad for distressing some edges
Singo Uniball "White" journaling pen for doodling and journaling

I made this card for the Farm Fresh Friday challenge over at Greeting Farms. I used my friend's Tina's Surfing Ian stamp and colored the image in with my copics. I plan on making a few more of these of my son's swim party later this summer.
Here is a layout that my oldest daughter did for the Kids can Scrap challenge for this month. The challenge was seeing double so there had to be two of everything that you used, ie two cardstaocks, two pictures, two ribbons, and two word title.